Dental Bridges
---
Dental Bridges NYC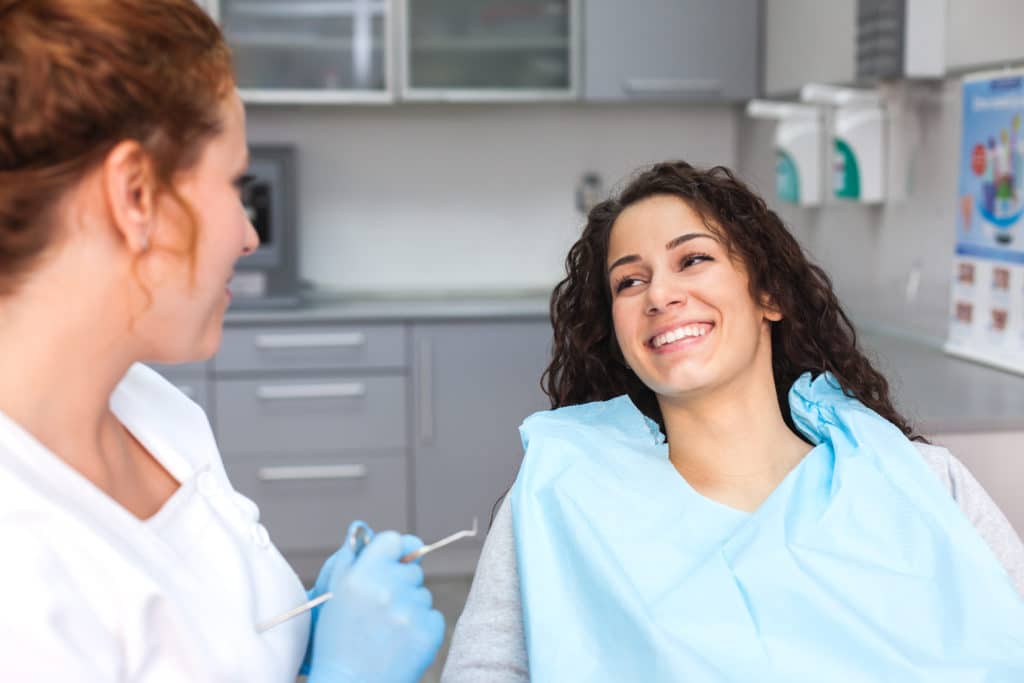 Tooth loss is a serious matter. Each tooth in the mouth supports the others and also supports the functional movement of the jaw and temporomandibular joints. When a tooth is lost and not replaced, surrounding teeth may shift. Opposing teeth, as well, may shift up or down into the empty space. Furthermore, the force of biting and chewing becomes imbalanced when a tooth is missing, exerting more stress onto remaining teeth and potentially causing them to wear down more quickly than they would otherwise.
We offer dental bridge treatment as a reliable restoration for missing teeth.
---
What are Dental Bridges?
A dental bridge is a fixed structure customized to look like natural teeth. This restoration may have one or more artificial teeth and will have a crown at each end. Crowns affix to natural teeth outside of the empty space to anchor artificial teeth in place.
---
What issues can dental bridges fix?
The immediate correction achieved with a dental bridge is that the gap left by a missing tooth is closed. By closing the gap, the bridge achieves many advantages, including:
Reduce the risk of gum disease
Restore the ability to bite and chew
Improve speech
Prevent remaining teeth from drifting out of position
Preserve a natural-looking smile
---
Candidates for Tooth Bridges
Dental bridge treatment is appropriate for many people who have lost one to three consecutive teeth. It is necessary for us to confirm good general and oral health. Gum disease can pose a challenge to the long-term benefits of bridge treatment. If a patient has gum disease, we will conduct treatment to bring this under control before moving forward with bridge fabrication.
Because a bridge needs to be anchored securely, it is necessary to have natural teeth that are healthy and strong on each side of the bridge. If an implant-supported bridge is preferred, we will perform a thorough examination to confirm adequate bone density to accept the small implant posts and support the larger restoration.
---
Types Of Dental Bridges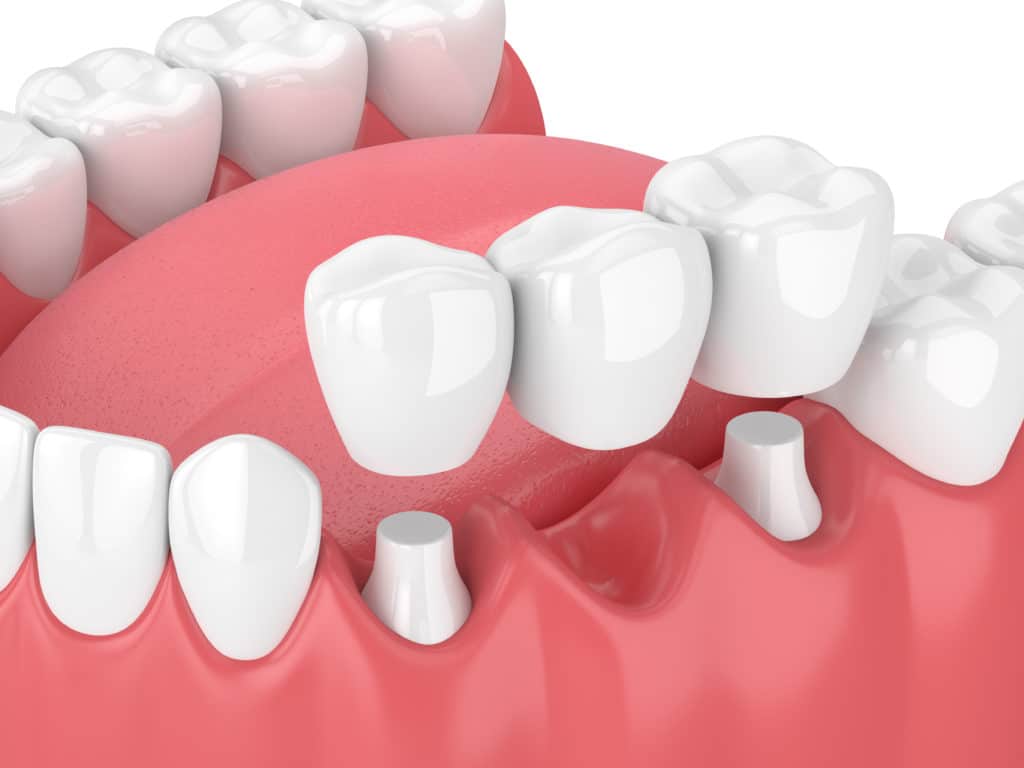 At our office in New York City, we offer three types of bridges to meet each individuals needs. These three main types of bridges are:
Traditional (Fixed) Bridges
Also known as fixed bridges, traditional bridges are used to replace one or more missing teeth. The procedure involves creating a crown for the tooth or implant on either side of the missing tooth, with a pontic, or a false tooth, in between. Fixed bridges are the most common type of dental bridges and are either made out of porcelain fused to metal or out of ceramics.
Resin-Bonded Bridges
Also known as Maryland-bonded bridges, resin-bonded bridges are primarily used for the front teeth. They are less expensive than fixed bridges and are best for use when the teeth are healthy and do not have any large fillings. During this procedure, a false tooth is fused with resin to metal bands which are then bonded to the adjacent teeth and hidden from view. Resin-bonded bridges require only minimal preparation of the adjacent teeth.
Cantilever Bridges
These bridges are used in areas of the mouth that are under minimal stress, such as the back teeth. Cantilever bridges are recommended when there are teeth on only one side of the open space.
---
Dental Bridge Procedure
There are several steps that are taken in order to create a bridge:
First Step
The adjacent teeth must be prepared. This involves removing some of the enamel to allow room for the crown to be placed over them.
Second Step
Impressions of the teeth are made. These will be sent to a laboratory so a bridge, a false tooth or pontic, and crowns can be created to fit the unique configuration of the patient's mouth. During the 2 to 3 weeks while the bridge is being manufactured, the patient will be given a temporary dental bridge to protect the exposed teeth and gums.
Third Step
During the next dental visit, the temporary bridge will be removed and replaced with the new, permanent bridge. The doctor will make sure the bridge fits properly and cement it to the teeth.
---
Is the Tooth Bridge Procedure Painful?
Getting a dental bridge is comfortable even if we need to repair or extract a tooth or teeth. Restorative treatments are performed with a local anesthetic to numb the gums and cheeks before commencing with any modification to structure. A local anesthetic is also used in the bridge process even if extractions and repairs are not needed because it is necessary to alter the teeth that will hold the bridge in place via custom-fit crowns.
Once relevant teeth are reduced for their crowns, the remainder of bridge treatment focuses on impressions and fittings. First, we take an impression of the area to create a model of teeth shape, size, and position. This model is interpreted in the dental lab and transformed into a lifelike restoration that fits perfectly into the oral structure. Once the final product is returned to our office, we remove the temporary bridge or crowns that have been installed and insert the new bridge. This can typically be conducted without the need for numbing medication.
---
Recovery After Bridge Placement
Replacing missing teeth should make eating easier, but until they get used to the bridge, patients are advised to eat soft food cut into small pieces. For a few weeks after receiving a bridge, it is common to experience increased sensitivity to extreme temperatures. Patients will also notice a difference in their speech which will become clearer with the permanent bridge in place.
---
Tooth Bridge Results
With good oral hygiene, a dental bridge will last from 5 to 15 years, sometimes longer. Patients must remember to practice proper care of their teeth and gums to prevent the build-up of bacteria and formation of plaque. Regular dental visits and cleanings will still be required.
---
Are Dental Bridges Expensive?
Dental bridges have a wide range in terms of cost. Several factors determine this, including:
The need for additional procedures such as root canal or fillings.
Contribution from dental insurance, if any.
The extent of preparation needed to support the bridge.
The type of material selected for artificial teeth and crowns.
We discuss treatment details in-depth with each patient and are available to answer any questions related to the cost of the dental bridge procedure and potential insurance coverage for care.
---
Alternatives to Dental Bridges
Dental bridge treatment is beneficial for a number of reasons, but may not be ideal for every person. Alternative options include an implant supported bridge for multiple missing teeth, a dental implant, and crown for a single restoration, or a
partial denture
, which clasps to natural surrounding teeth for temporary stabilization.
---
Schedule a Consultation
If you think you may need a dental bridge, call
212.758.9690
to schedule a consultation with Prosthodontics of New York. Our practice serves Manhattan, New York City and surrounding areas.