Porcelain Veneers
---
What are Veneers?
Veneers are very thin, tooth-colored shells that are custom-fit and bonded to the front of the teeth. They can create a white, even and attractive smile. Commonly made of composite or porcelain, veneers make it possible to correct a variety of color and shape related tooth problems that may include:
Spaces between the teeth
Broken or chipped teeth
Dark, yellow, or stained teeth
Misshapen or crooked teeth
Small holes or pits in teeth
Uneven or undersized teeth
---
types of veneers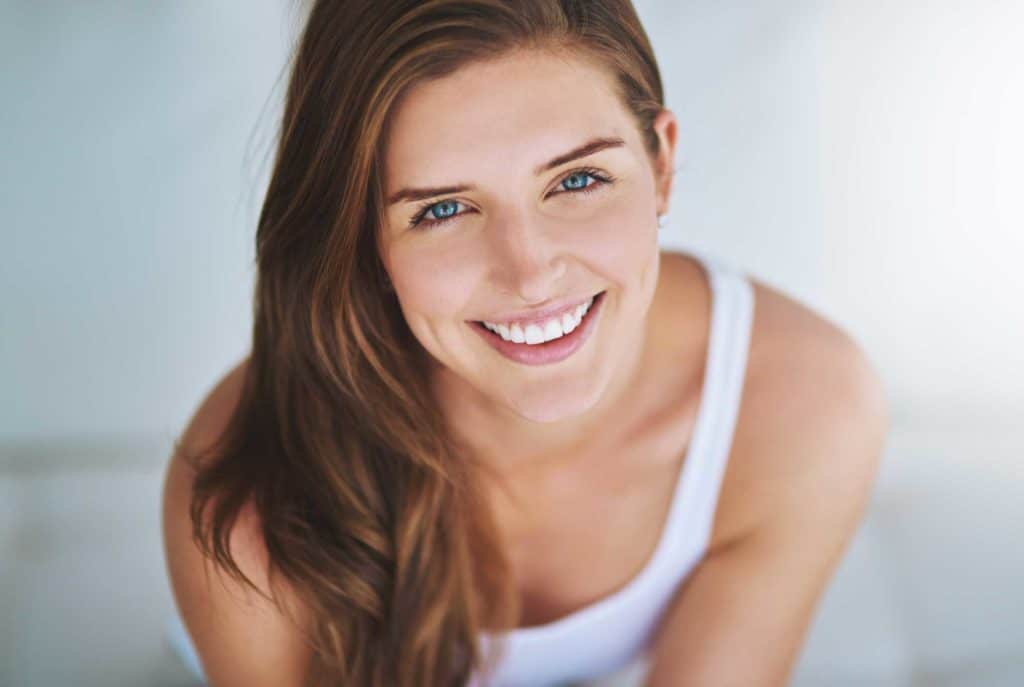 There are two types of veneers, which include:
Porcelain Veneers
Porcelain veneers are custom-made in a dental laboratory to look exactly like the patient's teeth. The main advantages of porcelain veneers are that they are extremely natural looking and are resistant to future staining. Additionally, there is no tooth reduction needed in the manner of composite resin, which takes up considerably more bulk and volume once applied. Two or three appointments may be required for this process.
Composite Veneers
Composite veneers are much faster and more efficient than porcelain veneers. Our doctors can set or fix composite veneers within one visit and cost significantly less money. In fact, the composite resin used will expand and contract with natural fluctuations in tooth size, which, combined with the additional volume the resin takes up, makes it the perfect choice for repairing fractured teeth.
---
the porcelain veneers procedure
The placement of porcelain veneers will require three appointments for the following:
Diagnosis and Treatment Planning
During this initial appointment, your dentist will examine your teeth to make sure dental veneers are the appropriate solution. You will discuss the advantages and disadvantages of the procedure. This will allow the patient the chance to have an active role in designing and discussing the process moving forward.
Preparation
At the second appointment, your dentist will lightly buff the surface to prepare for proper adhesion. The buffing typically reduces the tooth by approximately one half of a millimeter. Next, your dentist will take an impression and send it to the lab to create your custom veneers. If the patient is uncomfortable with the appearance of the natural teeth doctors can place temporary veneers. The custom veneers are usually ready one to two weeks later.
Bonding
At the third appointment, the dentist will test the veneers with water or glycerin. This is to determine that they are perfect in fit and color next to your other teeth. At this time, the color of the veneer can still be adjusted by changing the shade of the cement that is used to adhere it. Once the color is final, your dentist will apply chemicals to the tooth to allow for optimal bonding. Dental cement is then applied between the teeth and the veneer. Finally, a special light hardens the cement.
---
side effects of veneers
Sensitivity to hot and cold may occur after placement of veneers. This is caused by the reduction of enamel on the prepared teeth. Sensitivity is a very common residual effect that typically dissipates in one to two weeks.
---
How to care for veneers
Veneers should be treated just like natural teeth. You should brush and floss them regularly. This will not cause damage to porcelain or composite veneers, although we recommend using non-abrasive toothpaste. With proper home care and regular dental visits, patients will experience long-lasting success with their new veneers and smile.
---
advantages and disadvantages
There are several advantages and disadvantages to veneer treatment.
Advantages:
Veneers are more durable
Often do not require much removal of the natural tooth material
Will not stain or change color
Cost less than crowns
There are several disadvantages to address in your consultation with the dentist:
Porcelain veneers are more costly than composite resin veneers
Veneers are usually not repairable should they chip or crack
Veneer's color may not be changed once they are in place
Though rare, veneers may dislodge and fall off
Teeth with veneers may still experience tooth decay
---
Who may not be a good candidate for veneers?
The following conditions may reduce the potential for veneer treatment:
Individuals with decay, active gum disease or weakened teeth
Those with an inadequate amount of existing enamel on the tooth surface
Individuals who clench or grind their teeth at night
---
Schedule a consultation
If you want to learn more about porcelain veneers, set up a consultation with Prosthodontics of New York. Call our Manhattan office at
212.758.9690
.